Magnolia Cemetery Inscriptions
Clarke County, Mississippi
(African-American)
Compiled 2000 by Wallace L. "Matt" Dillon Jr.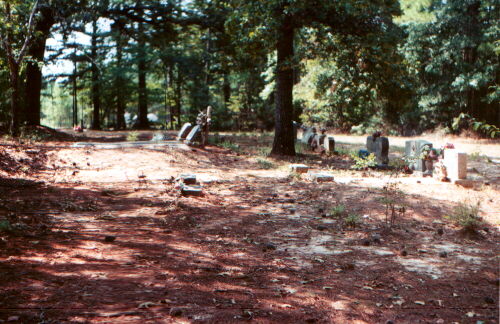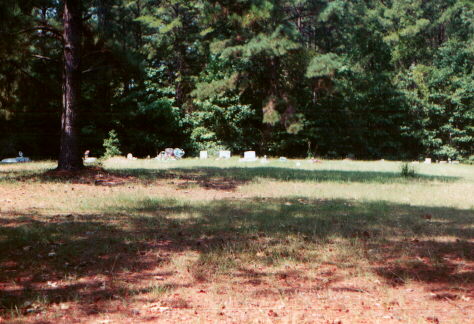 Magnolia Cemetery is located in the north western part of Clarke Co., MS. From Enterprise take State Highway 513 North for 5 miles. Turn right on Clarke County Highway 361. Go 50 meters to the dirt road on the right. Magnolia Cemetery lies 500 meters up the dirt road to the left side. NOTE: Access to the road is restricted by a locked gate. The cemetery is well maintained and burials continue to be made there. Magnolia Cemetery is situated in a forest clearing and is divided into 2 sections, East and West, approximately 50 meters separating the 2 sections. The photo at top left was taken at the cemetery entrance looking South at the West Section. The photo at top right was taken in the West Section looking East at the East Section. Cemetery Coordinates are: dd°mm'ss"N ddd°mm'ss"W.
I have shown dates in the DDMMMYYYY format for easier reading. The (double marker) note means two separate headstones with surname between resting on a double base. The (double base) means two separate headstones (with full names) resting on a double base. Row numbers were determined as best I could using the cemetery layout and may not necessarily agree with any other compilation (if any) or official cemetery or church records. Abbreviations used here are as follows: BB = Brick Border; CB = Concrete Border; CS = Concrete Slab; DM = Double Marker; DBS = Double Base; FHM = Funeral Home Marker; FM = Foot Marker; FS = Foot Stone; GB = Granite Border; GS = Granite Slab; SM = Stone Marker.
In both sections, rows were numbered from West to East; Graves listed from right to left (North to South) in the West Section and left to right (South to North) in the East Section. Rows with only a few graves were counted as full rows as the cemetery is still active. I have tried diligently to copy all inscriptions accurately; however there is no guarantee that this work is 100% correct. If anyone sees an obvious error, please do not hesitate to let me know.
CLICK ON A NAME TO DISPLAY AN IMAGE OF THAT PLOT.
WEST SECTION

Row 1 (R-L :North to South):

FHM

05 Jan 1994

05 Jan 1994

CS

1979

CS

Oct 1900

May 1974

"Beloved Wife of Amos Hopson"

CS

09 Mar 1923

14 Jan 1954

27 Jan 1925

12 May 1944

15 Nov 1902

11 Nov 1949

21 Sep 1931

28 Nov 1957

29 Oct 1905

29 May 1987

10 Sep 1934

10 Dec 1993

07 Jul 1940

27 Jul 1996

02 May 1941

25 Sept 1940

FHM

22 Dec 1996

"Age 64"

09 May 1938

28 Oct 1977

05 May 1874

22 Oct 1966

05 Dec 1906

01 Feb 1942

23 Oct 1910

14 Jun 1934

20 June 1879

05 Jan 1961

UNKNOWN

Row 2 (R-L):

DM

1926

1979?

1905

1979

CS

14 April 1908

12 April 1958

"The Battle Is Over"

MISSISSIPPI PVT 3554 SERVICE UNIT WWII

DM

10 Mar 1871

31 Mar 1956

16 Apr 1886

25 June 1953

DM

03 Feb 1983

"Although He Sleeps His Memory Lives On"

04 Sep 1906

18 Nov 2000

"Although She Sleeps Her Memory Lives On"

14 Oct 1909

16 Jun 1944

"Amazing Grace"

CS

27 Jul 1912

07 Sep 1997

"Precious Lord"

EAST SECTION

Row 3 (L-R :South to North):

06 Apr 1910

14 Nov 1994

"A Loving Father"

Row 4 (L-R):

CS

06 Oct 1916

25 Dec 1979

CS

15 Sep 1916

25 Nov 1991

US NAVY

Row 5 (L-R):

FHM

25 Dec 1932

17 Aug 1995

CS

CS

Row 6 (L-R):

FHM

SM

SM

Row 7 (L-R):

FHM

26 Mar 1888

07 Mar 1958

CS

09 Jul 1871

01 Nov 1974

1902

1996

FHM

21 May 1933

30 Dec 1995

CS

28 Mar 1912

04 Jan 1990

1888

21 Nov 1936

FHM

SM

SM

SM

SM

FHM

1937

05 Feb 1948

Row 8 (L-R):

SM

SM

Row 9 (L-R):

1900

"Age 64"

"deied in 1898"

CS

10 Mar 1898

09 Feb 1969

1918

1998

CS

19 Jun 1947

CS

03 Dec 1937

11 Jul 1987

"Gone But Not Forgotten"

CS

21 Jun 1930

11 Apr 1964

"Gone But Not Forgotten"

Row 10 (L-R):

UNKNOWN

CS

29 Apr 1935

dd Mmm 1998

"In Loving Memory"

1859

1944

"At Rest"

15 Dec 1870

31 Dec 1917

"Circle No. 17 Gone But Not Forgotten"

Row 11 (L-R):

dd Oct YYYY

FHM

19 Nov 1919

25 Jul 1988

"Age 68"

SM

07 Oct 1943

SM

DHS

04 Jul 1862

25 Sep 1974

"An Angel Touched Him And He Slept"

Jul 1874

13 Jan 1962

"Her Light Shall Shine Before God"

1849

23 May 1913

Row 12 (L-R):

24 Dec 1921

12 Jul 1844

10 Aug 1916

"Gone But Not Forgotten"

13 Sep 1923

"Stillborn"

17 Jul 1877

dd Dec 1928

SM

Row 13 (L-R):

CB

29 Sep 1918

18 Apr 1944